Accreditations & Recognition
Internal Quality Management (IQM) System
Western Global University's goal over the past few decades has been to establish an internal quality management system (IQM) within the institution. Similarly, we have begun to research and adopt innovative student-centered pedagogical methodologies and competency-based approaches to teaching and learning. Internal quality management system (IQMS) allows us to increase and reinforce the techniques used to meet the objectives of a competency-based higher education and to support the enhancement of a student-centered learning approach. Therefore, we are continually striving to enhance and reinforce our curricula, teaching and evaluation methodologies, and students' learning processes.
External Accrediting Bodies
Accreditation is a quality assurance procedure in which an external agency evaluates the academic programs of higher education institutions to see if applicable requirements are satisfied. If requirements are satisfied, the external accrediting authority grants accredited status.
Accreditation and internal quality management (IQM) are complementary in that they both strive to examine, develop, and increase the needs of a competence-based higher education by assessing the results of the teaching-learning process.
The key faculties of Western Global University are accredited by prominent accrediting authorities in the United States. In addition, we adhere to the Standards and Guidelines for Quality Assurance in the Higher Education Area of the United States through the accreditation agencies in the United States.
Accreditation of an external agency not only offers us quality in teaching-learning process but also;
Strengthens the dedication to constant development, innovation, and creativity.
Creates additional exposure for our university.
Provides significance and legitimacy to our degrees and, consequently, our graduates.
We consistently work to get additional accreditations for our academic programs and are proud of the ones we already hold. For further information or to ask any questions you might have, you are more than welcome to come see us in person. You can get in touch with us by sending an email to info@westernglobaluniversity.us.
We are looking forward to having you join the Western Global University family.
Accreditations Coordinator
The IAO has granted Full Accreditation to WESTERN GLOBAL UNIVERSITY, USA after it satisfactorily completed all of the accreditation standards. The institute has been awarded Full Accreditation after evaluating it on IAO standards of the global best practices in Organizational Management, Academic Management and Institutional Performance. IAO's full accreditation is a proof that WESTERN GLOBAL UNIVERSITY, USA offers education to its students that is on par with global education standards and that the institute is fully committed towards continuous improvement of its educational standards.
The IAQAHE has granted Full Accreditation to WESTERN GLOBAL UNIVERSITY, USA. Western Global University has satisfactorily met all the standards prescribed by the Accreditation Committee concerning educational quality, institutional integrity and public accountability, through a voluntary, non-governmental review process of quality assurance and institutional development. Upon evaluations of the following areas, FULL ACCREDITATION is awarded by International Quality Assurance for Higher Education: Academic Quality and Integrity, Teaching Staff Qualifications, Delivery of Programs, Students Services and Website Design and Performance.
Western Global University has been registered by the California Secretary of State. All corporations, LLCs, and LPs on file with the California Secretary of State can be found in the California Business Search, along with their most recent Statements of Information submitted electronically.
Western Global University has successfully registered with the government of Zambia! This is a noteworthy accomplishment for our organization and a reflection of our diligence and commitment.
At this point Western Global University as a recognized educational institution in Zambia. This opens up opportunities for us to provide quality education and make a positive impact in the lives of students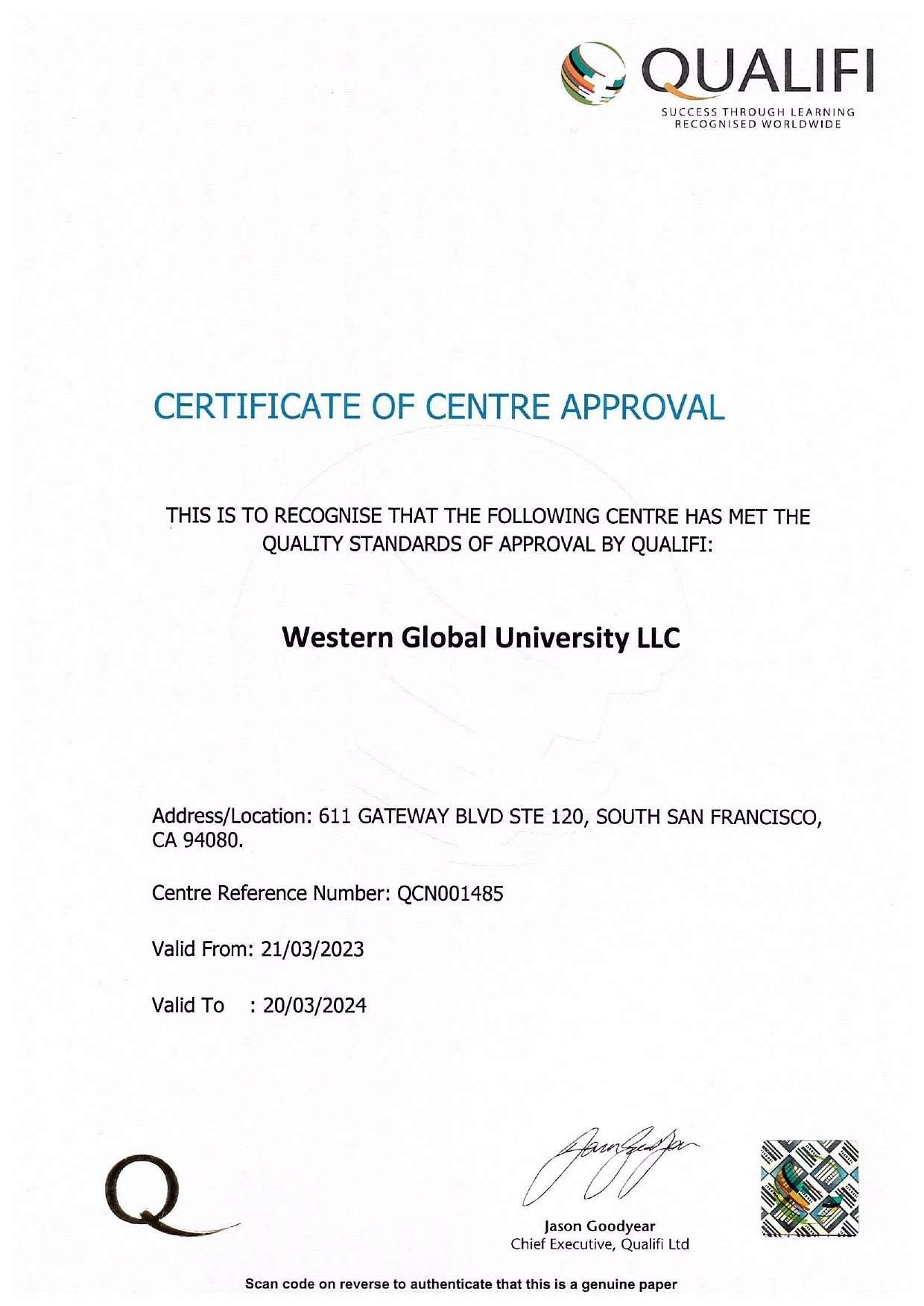 Regulated qualifications, also known as accredited qualifications, are those that are reviewed, recognised and monitored by the UK Regulators to ensure that they meet specific criteria and quality standards. The requirements for the regulated qualifications to be accredited are set out in the regulatory arrangements of the General Conditions of Recognition in England (OfQual).
Western Global University meets the requirements for a quality management system that meets the standards of ISO 9001:2015 specifies. The Western Global University has been given permission to provide higher education management services, including admissions, human resources, examinations, marketing, administration, and support services for tertiary education.
Interested in joining us ?
Contact Us For Information About Admissions